3FVAPE New 2019.02.23
Original eXvape eXpromizer V4 MTL RTA Rebuildable Tank Atomizer
Original Price $44.90, Now Only $35.90
The Original eXvape eXpromizer V4 RTA is the fourth generation of the MTL RTA designed in Germany. It retains the single coil deck with 23mm diameter, and comes with the top filling cap and top airflow. The eXpromizer V4 MTL RTA can be filled quickly and easily and also prevent leakage completely which makes the eXpromizer V4 easier for beginners. What's more, the eXpromizer V4 tank adopts a top-to-bottom airflow for purer flavor and the liquid channels which directly contacts with the cotton for better liquid flow. The eXpromizer V4 RTA will bring you an amazing mouth-to-lung vaping experience. This item also has other color to choose.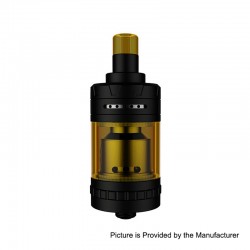 Original Augvape Jewel Disposable Mesh Sub Ohm Tank
Original Price $12.99, Now Only $7.99
The Augvape Jewel Disposable Mesh Sub Ohm Tank is a polycarbonate plastic tank featuring 3ml juice capacity and an integrated 0.15ohm mesh coil rated for 50~70W. A dual slotted bottom airflow control ring is situated at the base and can alter the flow of air into the tank system at the simplest twist for adjustment. This item also has other color to choose.
Reload S RDA Rebuildable Dripping Atomizer Clone with BF Pin
$9.39
The Reload S RDA Clone measures 24mm in diameter with a build-friendly postless deck designed for single and dual coil configurations. Featuring an dual adjustable top airflow system, this RDA integrates internal honeycomb airflow holes which provides a satisfyingly smooth draw. In addition, the featured internal honeycomb airflow holes direct airflow to the side and bottom of the coil for optimal flavor and vapor production.
This RDA comes with bottom feeder pin. This item also has other color to choose.
Original IJOY Shogun JR 126W 4500mAh TC VW Box Mod + Shogun Tank Kit
Original Price $79.99, Now Only $59.55
IJOY Shogun JR Kit is a revolutionary portable power giant featuring crafted streamline design and replaceable double-sided resin panels for an astonishing look and feel. The kit includes Shogun JR Mod and Shogun Subohm Tank. This item also has other color to choose.
Mod:
The IJOY Shogun JR Mod can fire up to 126W output with dual internal batteries, allowing you to keep going and vape at your best. Featuring simple user interface for navigating multiple vape modes. Utilizing the industry-leading UNIV chip-set allows users to vape with ease, delivering unbeatable protections to you and your devices. A variety of color options and finishes are available to fully present your unique personal taste and charm.
Tank:
The IJOY Shogun Subohm Tank adopts two new 0.2ohm mesh coils with e-juice capacity enlarges to 6ml to prolong your enjoyment with flavor optimization. Together with easy top filling and refined bottom airflow design to make the SHOGUN JR the sensational on-the-go vaping mate for you.
Original IJOY Replacement Mesh 1 Coil Head for Shogun JR Kit / Shogun Sub Ohm Tank
$7.58
The IJOY Shogun JR Replacement Mesh Coil Head comes with 0.2ohm resistance rated for 40~80W. It is suitable for IJOY Shogun JR Kit / Shogun Sub Ohm Tank.
This product comes with 3 PCS in 1 pack.