3Fvape New 2022.02.10
SXK VWM Dope clone RBA Bridge for SXK BB / Billet Box Mod Kit / Boro
Original Price $28.9, Now Only $25.9.
The SXK VWM Dope clone RBA Bridge is suitable for SXK BB / Billet Box Mod Kit and compatible with Boro tank. The RBA bridge comes with 8 airflow options 0.9mm / 1.2mm / 1.5mm / 1.8mm / 2.1mm / 2.4mm / 2.7mm / 3.0mm air pins. It is easy to change bottom screwing pins without RBA removal from Boro Tank.
SXK BB clone 60W All-in-One VW Box Mod Vape Kit w/ USB Port
Original Price $129.99, Now Only $119.99.
The SXK BB clone mod is constructed from aluminum with an all-in-one design. It is powered by 1 x 18650 battery (Not Included) and maximum power output is 60W. The box mod is powered by Evolv DNA 60 chip.This BB Box comes with USB port for firmware upgrading, setting modification and user customization via software.This BB Box with 2022 Logo
Gluee clone 510 Drip Tip Set - Black, Stainless Steel + POM, DL + MTL (2 PCS)
Original Price $4.99, Now Only $3.59.
The Gluee clone 510 Drip Tip Set is made from Stainless Steel (base) and POM (mouthpiece). Comes with one MTL drip tip and one DL drip tip.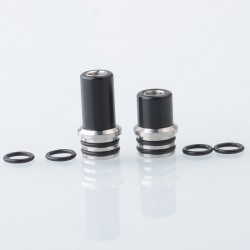 VWM clone 510 Drip Tip Set
Original Price $4.99, Now Only $3.59.
The VWM clone 510 Drip Tip Set is made from Stainless Steel and POM. Comes with 2 PCS / Pack and one spare POM mouthpiece. Different mouthpiece and base for different combination.
original Uwell Popreel N1 10W Pod System Vape Kit
Original Price $25.99, Now Only $16.99.
original Uwell Popreel N1 Pod System Vape Kit is built-in 520mAh battery with its max 10W output. There has a LED indicator to remind you of charging. It adapts a Pro-FOCS technology to enhance flavor restoration, accommodating a 2ml vape juice capacity, you can supply nicotine salt or freebase e-liquid via its side slot that has a leak-proof design. Based on its magnets, Popreel N1 provides you with an effortless homeridge replacement. Designed lighter and elegant with its frame, it is lightweight and features diamond pattern elements, which is easy to carry and modifies its grip with no fingerprints in such a simple interface. Compactible with a 1.2ohm Popreel N1 pod homeridge, it gives you a draw-activated vape for MTL vaping, which is similar to smoke.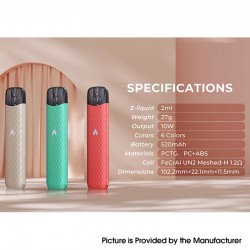 original Uwell Popreel N1 Replacement Pod homeridge
Original Price $10.99, Now Only $6.99.
original Uwell Popreel N1 Pod homeridge is a replacement vape pod designed for Uwell Popreel N1Pod System Vape Kit. Made of PCTG and can cater to 2ml e-juice. It is suitable for both nicotine salt and freebase e-juice and has a side-fill design. Thanks to its magnetic connection, it is effortless to replace.Compatible with a 1.2ohm coil, which makes it easier to deliver picky taste for MTL vaping. The ergonomic mouthpiece and airflow work hand in hand to provide you flavor and vapor retention, two pods per pack.