3FVAPE New 2021.10.26
Original Hellvape Dead Rabbit 3 RDA - Dual Coil, with BF Pin, 24mm Diameter
Original Price $30.99, Now Only $25.99.
Original Hellvape Dead Rabbit 3 RDA Vape Atomizer offers flexible and adjustable round posts for coil cutting. Upgraded quickly and easily, this design has ample space for your coil, which takes into account that your coil has a larger surface area to contact your e-liquid fully and warms it efficiently. This optimized deck allows your air to smoother for the fluffy clouds. It leads the light in two types of airflow, which results in a different experience for your air chase and comes with a delicate flavor. Considered more satisfying, it is refilled by a side filling system and is designed for quick vape juice transferring. Connect with a gold-plated 510 pin, it is uneasy to slip and firm for your kit.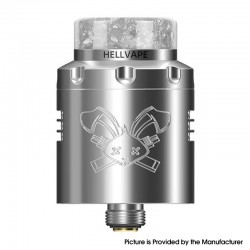 Original SMOKTech SMOK R-KISS 2 200W Box Mod - 2 x 18650
Original Price $74.99, Now Only $49.99.
Original SMOKTech SMOK R-KISS 2 VW Vape Box Mod has the most impressive IQ-S chip, which is reliable for power transmission and security. It is easy to get your hand around it once you are looking for the ideal mod for its 1.3 inch TFT color screen, it has plenty of theme color, whichever you choose is complementary down to your preference and mood. R-KISS 2 is available for the range of 5W~200W output to adjust and personalize your vaping experience, powered by a dual 18650 batteries (not included), it provides you an enduring satisfaction and is ideal for simple carrying and replacement, which is why it is the most popular with vapers who want to for its convenience and performance. The lateral fire key adapts the kit seamlessly and has a roomy operation area, rapid reaction, which results in the ultimate sensation when you vape.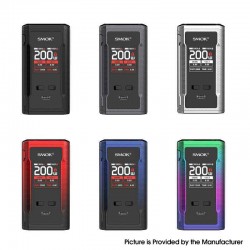 Original ThunderHead Creations THC Tauren MAX RDA w/ BF Pin Glass Version
Original Price $38.5, Now Only $25.99.
Original ThunderHead Creations THC Tauren MAX RDA Rebuildable Dripping Vape Atomizer with glass top cap (shell), an upgraded postless dual coil RDA in 27mm diameter. THC Tauren MAX RDA adopts innovative 3D honeycomb airflow system, 26 pieces airholes from triple sides to be as cloud chaser for an excellent flavor and strong throat hit. ThunderHead Creations Tauren MAX RDA features innovative ceramic build deck, creative dual ceramic clamp system, absolutely a great RDA for your favorite mods with 510 threading connection, like Tauren Mech and Tauren Max Mech mod. Comes with BF Pin.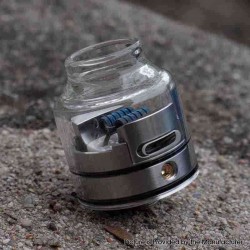 Original ThunderHead Creations THC Tauren Max RDA Replacement Glass Shell Top Cap
Original Price $9.99, Now Only $5.99.
Those Max RDA Atomizer Glass Shell top cap is perfectly compatible with ThunderHead Creations THC Tauren Max RDA Vape Atomizer.
Cute Family Christmas Tree Personalized Ornament Family Holiday Decoration Christmas Ornament
Original Price $4.99, Now Only $2.99.