3FVAPE New 2021.09.15
Original Cthulhu Tube Mod II - Silver, Semi-Mechanical, 1 x 18350 / 18650
Original Price $49.99, Now Only $35.99.
Original Cthulhu Tube Mod II 2 V2 is a new mechanical mod which is powered by 18650 / 18350 battery (not included). Cthulhu Tube II mod is compatible with 22mm / 24mm vape atomizer perfectly. Cthulhu Tube 2 Mod is elegant and compact mech mod with bottom mechanical switch and mechanical lock ring.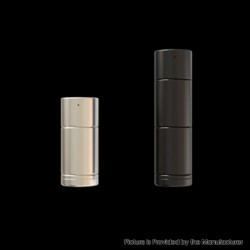 MK MODS Glow in the Dark Button Ring Clone for DotMod Dotaio Pod
Original Price $7.99, Now Only $4.99.
The MK MODS Style Glow in the Dark Button Ring is suitable for DotMod Dotaio Pod System. It is Compatible with DotMod Dotaio Mini Pod System as used with DotMod Dotaio button