3FVAPE New 2021.06.09
Original FLHS Tiger Squonk Mechanical Box Mod 20700
Original Price $69.99, Now Only $20.99.
The original FLHS Tiger Mech mod is a 20700 squonk box mod with stunning tiger pattern on the battery door. Made from durable Bakelite material, it is powered by single 20700 battery (NOT INCLUDED). This mod will bring you excellent squonking experience.
Original Movkin Disguiser 150W TC VW Variable Wattage Box Mod
Original Price $55, Now Only $27.99.
Movkin Disguiser 150W mod comes to change the way how vapor device looks. Just like the name Disguiser, it can hide the 90percent tanks in the current market except these RDAs. The elastic drip tip and the windows on the back door just make this concept work well. 150W output with Kanthal, Ni, Ti and SS modes can meet most vaper's demand.
Original Vision Vapros iBox 1500mAh VV / VW Box Mod
Original Price $49.99, Now Only $14.99.
The Vapros iBox is a unique 25 Watt box MOD made by Vision. This device features a unique pull down fire button and an easy to use wattage adjustment dial. This powerful and compact device will fire an atomizer up to 25 watts, and is compatible with resistance down to 0.5ohm. The iBox includes a built in 1500mAh battery and can be charged with a standard USB cable. Also has a USB output so you can use the iBox as a power source to charge your other devices. Compatible with any 510 threaded atomizer. eGo threaded Clearomizer will require the use of a 510-eGo adapter.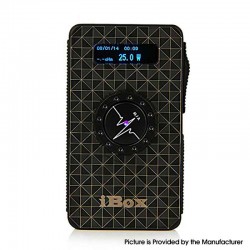 Original ZQ GO Pod System Vape Kit
Original Price $29.99, Now Only $14.99.
ZQ firstly introduces the CSA technology Whenever you puff the CSA (cellular spiral airflow) system guides the air now through the honeycomb mesh, thus the puff of air comes evenly and spirally into the atomizer coil with organic cotton, more smooth flavor and the coil wont easily get burnt.