3FVAPE New 2021.02.26
Original Auguse MTL / DTL V2 RTA Rebuildable Tank Vape Atomizer 3.0ml
Original Price $35, Now Only $28.99.
Original Auguse MTL / DTL V2 RTA Rebuildable Tank Vape Atomizer holds 3.0ml capacity with convenient top filling system. It adopts oil switch system, single coil configuration, design of inclined inlet with 30 degree angle and three kinds of independently adjustment precise air flow, delivering you a MTL or DL optional vaping experience. It features 30 degree angle oblique bellowing method, which combined with 3 independent precise air intake adjustments on the bottom, so you can customize your own vaping experience. With 510 threading connection, it can accommodate most of your favorite mods. Two colors: Black / Silver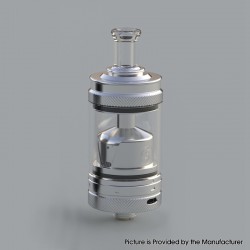 Original ULTRONER Alieno 70W TC VW Variable Wattage Vape Box Mod SEVO 70 Chipset
Original Price $139, Now Only $129.
Original ULTRONER Alieno 70W TC VW Vape Box Mod is powered by SEVO-70 chipset enough to fire up to max. 70W output, made from Stabilized Wood and Stainless Steel. The Ergonomic design makes it more convenient to use and supports replacement battery tube (not included). The redesigned top cap adapts to 24mm atomizer. Please Note: Product may vary due to stabilized wood properties. Two kinds of appearance material: ABS / Stabilized Wood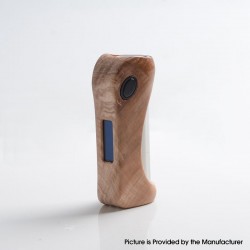 SXK BB Clone 60W All-in-One VW Box Mod Vape Kit w/ USB Port Evolv DNA 60 (2021 Logo)
Original Price $119, Now Only $114.8.
The SXK BB Clone mod, constructed from aluminum features an all-in-one design. It is powered by 1 x 18650 battery (Not Included), enough to fire up to maximum power output 60W. The box mod is powered by Evolv DNA 60 chip. This BB Box comes with USB port for firmware upgrading, setting modification and user customization via software. Please note: This BB Box with 2021 Logo
510 to 510 Stainless Steel Heat Sink for Atomizer with 510 Threading Connection 22mm
$3.99
510 to 510 Stainless Steel Heat Sink is designed for most of atomizer with 510 threading connection. It is quite useful for heat insulation when vaping. With different diameters, it can be easily compatible with your atomizers. 1 PC / Pack
Original Wotofo OFRF NexMESH Pro Tank Atomizer Replacement H18 Triple Mesh Coil Head 0.15ohm
$7.99
Original Wotofo NexMESH H18 Triple Mesh Coil 0.15ohm is designed for Wotofo NexMESH Pro Sub Ohm Tank Atomizer. It features triple mesh coil structure, forming a triangle mesh heating network inside, producing thicker vapor while keeping amazing flavor. Power range is 65~95W while suggested range 80~90W. Wotofo OFRF NexMESH Pro Tank Atomizer Replacement H19 Wire & Mesh Quad 0.15ohm Coil Head is also available. 3PCS / Pack