3FVAPE New 2021.01.25
Original VOOPOO Argus GT 160W TC Variable Wattage Box Mod + PnP Pod Tank Vape Kit
Original Price $43.99, Now Only $41.99.
Original VOOPOO Argus GT vape Kit is composed of VOOPOO Argus GT Box Mod and PnP Pod Tank. VOOPOO Argus GT Box Mod, using the same zinc alloy and leather process as the racing bike is more aesthetically pleasing and 30% lighter than the usual Mod. Argus GT is powered by two external 18650 batteries (not included), in combination with the Type-C fast charging interface, offering you a longer vaping experience. Argus GT has a high power output of up to 160W (5~160W). Besides, Argus GT built-in powerful GENE.TT chip that gives it a thick haze in an instant, has the powerful performance of fast ignition and high burst and also provides intelligent functions such as SMART and TC mode. TC mode supports the temperature adjustment of Nickel, Titanium, and Stainless Steel heating wire materials. Just press "+" and "-" at the same time to enter the page adjustment. VOOPOO PNP Pod Tank hold up to 4.5ml e-juice capacity and refill the juice from the bottom of the Pod by twisting 510 base. With the addition of a 510 base, PnP Pod Tank fits almost all your VOOPOO devices. Made of PCTG, PnP Pod Tank matches with a rich flavor of PnP coil. Argus GT is equipped with two dedicated coils: PnP-VM5 0.2ohm and PnP-VM6 0.15ohm. Argus GT is compatible with all PnP coils including RBA, just pull and push, you can enjoy different vaping experience, fast and affordable. In addition, PNP Pod Tank has an innovative infinite airflow system. Turn 510 base for airflow adjustment. Nine colors in total for your choice. In addition, VOOPOO Argus GT Box Mod and PnP Pod Tank can be purchased separately.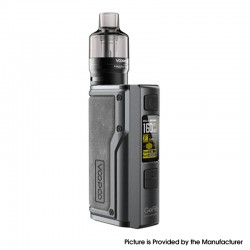 Original Fucig EXvape Expromizer V5 Cotton Rope Suitable for Coil Internal Diameter 2.0~3.0mm
$6.95
Original Fucig EXvape Expromizer V5 Cotton Rope is 5 Meters in length, made of premium organic cotton. It is designed for coil internal diameter 2.0~3.0mm.
Original Fucig EXvape Expromizer V5 MTL RTA Replacement Cotton Laces
$6.95
Original Fucig EXvape Expromizer V5 Cotton Laces is especially designed for Fucig EXvape eXpromizer V5 MTL RTA. 20 PCS / Pack