3FVAPE New 2021.01.14
Original Lost Vape Thelema DNA250C 200W VW TC Box Mod
Original Price $199, Now Only $119.99.
Original Lost Vape Thelema DNA250C Box Mod is powered by 2 x 18650 batteries (not included), enough to provide a maximum power of 200W (1~200W). With the advanced Evolv DNA250C Chipset, it has access to VW, TC, and Bypass Modes, delivering satisfying performance to the user via tailored vapor output. Constructed from quality zinc-alloy, the THELEMA DNA250C Mod can utilize interchangeable battery chassis pieces to allow for customization of the visually striking exterior. With accurate temperature control system, the Thelema DNA250C Mod is able to prevent the coil becoming too hot and provide a much stable performance.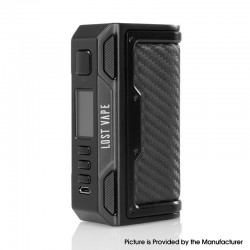 ShenRay Vapor Giant VG V6S V6 S 2020 Clone RTA Rebuildable Tank Atomizer 5.5ml / 7.0ml
28.99
ShenRay Vapor Giant VG V6S 2020 Clone RTA is made of stainless steel in 23mm diameter. The VG V6 S Clone RTA comes with glass tank tube holds and 5.5ml capacity (pre-installed) and PEI tank tube holds 7.0ml capacity (in the package). The V6 S Clone RTA is with 360 degree removable tank tube. The VG V6 S Clone RTA is with top filling system and the liquid control. There are 9 holes in the deck and up to 6 of these 9 holes can be closed with infinitely adjustable Bottom Airflow.
SXK DotMission Clone RBA Bridge for DotMod DotAIO AIO Pod 1.2 / 2.1 / 3.5mm
26.9
SXK DotMission Clone RBA Bridge is especially designed for DotMod DotAIO AIO Pod. It supports side filling system and comes with Variable airflow controls (1.2mm, 2.1mm, 3.5mm).
Original ULTRONER Alieno 70W TC VW Variable Wattage Vape Box Mod SEVO 70 Chipset
45.99
The Original ULTRONER Alieno 70W TC VW Vape Box Mod is made from ABS and Stainless Steel. The Alieno box mod Powered by SEVO-70 chipset to supports max. 70W output. The Ergonomic design makes it more convenient to use and supports replacement battery tube (not included). The redesigned top cap adapts to 24mm atomizer.There are total six different colors for your choice, including two new colors coming in this time: White and Blue.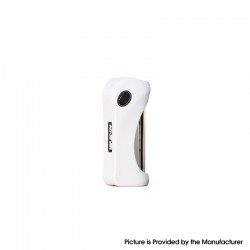 Original VOOPOO Argus GT 160W TC VW Variable Wattage Box Mod + PnP Pod Tank Vape Kit
43.99
The Original VOOPOO Argus GT vape Kit is composed of VOOPOO Argus GT Box Mod and PnP Pod Tank. The VOOPOO Argus GT finds inspiration for dynamism and lightness from racing bikes. Constructed of zinc alloy and leather, Argus GT is powered by two external 18650 batteries (not included), in combination with the Type-C fast charging interface, offering you a longer vaping experience in a portable size. Argus GT has a high power output of up to 160W (5~160W). Besides, Argus GT built-in powerful GENE.TT chip that gives it a thick haze in an instant, has the powerful performance of fast ignition and high burst and also provides intelligent functions such as SMART and TC mode. TC mode supports the temperature adjustment of Nickel, Titanium, and Stainless Steel heating wire materials. VOOPOO Argus GT Kit comes with VOOPOO PNP Pod Tank. The tank can hold up to 4.5ml of your favorite electronic juice, and refill the juice from the bottom of the Pod by twisting 510 base. With the addition of a 510 base, PnP Pod Tank fits almost all your VOOPOO devices. PnP Pod Tank not only matches with a rich flavor of PnP coil but also has a PCTG material that is more drop-proof than glass in the outdoor. Argus GT is equipped with two dedicated coils. PnP-VM5 0.2ohm and PnP-VM6 0.15ohm, the strongest combination of the PnP series. Argus GT is compatible with all PnP coils including RBA, just pull and push, you can enjoy different vaping experience, fast and affordable. In addition, PNP Pod Tank has an innovative infinite airflow system. Turn 510 base for airflow adjustment.There are total eight different colors for your choice, including three new colors coming in this time: Rock Ash, Desert Yellow and Full Back.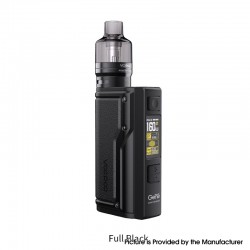 SXK DotMISSION Clone RBA Bridge Replacement Tank Tube
4.5
Replacement Tank Tube is especially designed for SXK DotMISSION Clone RBA Bridge. 1 PC / Pack
SXK DotMISSION Clone RBA Bridge Replacement Domed Chamber Airway
8.9
Replacement Domed Chamber Airway is especially designed for SXK DotMISSION Clone RBA Bridge. Three colors for your choice: Red, Blue and Purple. 1 PC / Pack
Original Hellvape Vertex MTL RTA Replacement Tank Tube 2.0ml
1.99
Original Hellvape Vertex Replacement Glass Tank Tube holds 2.0ml, especially designed for Hellvape Vertex MTL RTA Rebuildable Tank Vape Atomizer. 1 PC / Pack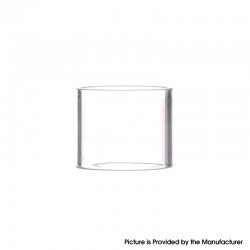 Original Hellvape Vertex MTL RTA Replacement Tank Tube 3.5ml
2.59
Original Hellvape Vertex Replacement Glass Tank Tube holds 3.5ml, especially designed for Hellvape Vertex MTL RTA Rebuildable Tank Vape Atomizer. 1 PC / Pack