3FVAPE New 2020.12.10
AV MIP5 Stackable Mechanical Mod Clone
$20.99
The AV M1P5 Style mechanical mod comes with the mod only or with the stackable tube extension, powered by 1 / 2 x 18650 battery (not included). The AV MIP5 Style Mechanical Mod is with adjustable magnetic bottom firing button.
Replacement Resin 810 Drip Tip w/ O-Ring
$1.79
The Replacement 810 Drip Tip is made from resin and comes with silicone O-Rings. It is suitable for RDA / RTA / RDTA / Sub Ohm Tank Vape Atomizer.
Original VAPJOY DIY Rebuild Kit for Caliburn G Coil - 0.8ohm, A1 Mesh Coil (10 PCS) + Cotton (20 PCS)
$3.99
The Original VAPJOY DIY Rebuild Kit is suitable for Uwell Caliburn G coil. Comes with 10 PCS Mesh coil and 20 PCS Cotton.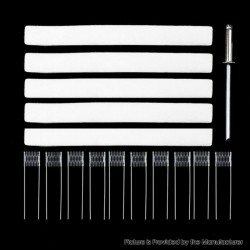 Original OBS Pluck Tank Atomizer - 3.5ml, 1.0ohm / 0.4ohm
$9.99
The Original OBS Pluck Pod Cartridge Atomizer consists of a transparent pod cartridge and an atomizer 510 base with an air ring. has an integrated proprietary drip tip, which can be slid back and forth through the top filling system to expose the filling port and close firmly. Two OM coils and replacements are readily available included. Perfect for RDL (restricted direct lung) and MTL (mouth to lung) vaping.