3FVAPE New 2020.11.26
Original SXmini SL Class 100W SX485J TC VW Box Mod
Original Price $174.99, Now Only $62.99.
The authentic YiHi SXmini SL Class SX485J 100W vape Box Mod is the next luxurious device from YiHi's unrivaled line-up, powered by 18650 / 20700 / 21700 battery (not included) platform with a premium frame chassis and high-end grip design. The high-end impression is complemented with ergonomic construction design, making the SXmini SL Class a phenomenal all-day vape option. Accessed via a threaded battery cover at the bottom of the device, the SL Class SX485J can support single 18650, 20700, or 21700 battery for wide range of vape battery options. The internal YiHi SX485J Chipset provides tremendous output range of 5 to 100W alongside a suite of functionality such as full temperature control support and efficient processor for accurate and customizable experience. The inclusion of SXi-Q Intelligent Taste Curve Technology features an algorithmic calculation that allows users to set, fine tune, and save 5-memory output curves.
Squape Arise Clone RTA Rebuildable Tank Vape Atomizer
$21.99
SQuape A Rise Squ A[rise] clone RTA Vape Atomizer is made from stainless steel and PSU. The 24mm RTA holds 4.0ml and supports DL / MTL Vaping.The Air Discs diameter: 1 x 1mm / 2 x 0.8mm / 3 x 0.8mm / 4 x 0.8mm.This Squ A[rise] Arise clone RTA supports to convince both as Direct to lung (DL) and Mouth to lung (MTL). The easily convert from DL to MTL and thus offers you complete flexibility.
Squape Arise RTA Replacement 2.0ml Tank Tube + 2.0ml Airflow Insert
$4.99
The 2.0ml Tank Tube and 2.0ml Airflow Insert is suitable for SQuape A Rise Squ A[rise] Style RTA Vape Atomizer.
Original GeekVape Aegis Boost Pro Replacement Pod Cartridge
$11.99
The Aegis Boost Pro Pod Cartridge is designed especially for the GeekVape Aegis Boost Pro 100W Pod system Vape Kit, coming with 6.0ml e-juice capacity and 0.2ohm / 0.4ohm Coil.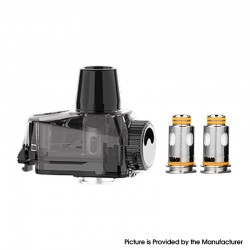 Original Ohm Vape Bape Pod Kit Connector Adapter
$3.99
The Bape Pod Kit Connector is designed for the Ohm Vape Bape AIO Pod Vape Mod Kit.
Original Ohm Vape Bape AIO Pod Replacement Coil Head
$8.99
The Authentic Ohm Vape Bape AIO Pod Mod Kit / Atomizer Cartridge Replacement Coil Head is with several resistance(0.4ohm, 0.7ohm, 1.0ohm optional). Comes with 5 PCS / Pack.