Uwell Conick 100W Box Mod + Whirl 2 II Tank Starter Kit
"
Uwell Conick 100W Box Mod + Whirl 2 II Tank Starter Kit
original price $64.99, now only $47.99
The Uwell Conick Vape Box Mod is compact for you to carry it around. Equipped with high-quality metallic materials, simple style, ergonomic design, comfortable to grip. The Uwell Whirl 2 starter kit is optimized to work with a single 21700 / 20700 / 18650 battery (not included). The 18650 battery sleeve is included in the package to make it compatible with 18650 battery (not included). Enter the battery compartment from the bottom-hinged cover. No matter which battery you choose, they all allow a maximum output power of 100 watts. In addition, the internal chipset of Conick Box Mod can be dust-proof, e-liquid-proof moisture-proof, effectively protect the core unit of the device and prolong the lifespan of the mod. And the chipset provides ultra-fast 0.008s fire speed, easily triggering resistance in the range of 0.1ohm to 3.0ohm. You can use the output mode variable wattage (VW), temperature control (TCR), and Bypass mode to operate this mod. The Whirl 2 kit provides a clear display and an intuitive LED indicator system to convey information to the user. And use familiar and three-button control and super large fire button for easy operation.
Uwell Whirl 2 Tank designed for both mouth to lung and direct lung users with special features designed to create the perfect vaping experience. It adopts a curved top cover and base design and can hold 3.5ml e-juice. Unscrew the top cover 90 degree, you can easily fill the e-juice. The filling hole is equipped with a silicone check valve to avoid leakage of e-liquid and make the filling cleaner. Patented self-cleaning technology provides a condensation holder that allows for the excess e-liquid to be vaporized with regular usage., This reduces leakage and the frequency of cleaning. The airflow is adjustable by turning the ring on the base of the tank and promises a restricted DTL and MTL airflow to match the coils. It is compatible with Whirl Replacement Coils: Dual Nichrome Coil 0.6ohm for restricted DTL and Single Nichrome Coil 1.8ohm for MTL. The coils are a push in / pull out fitment.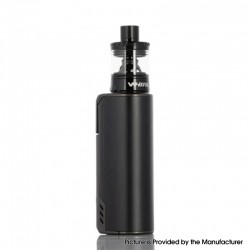 "