ThunderHead Creations THC Artemis RDTA
"
ThunderHead Creations THC Artemis RDTA
original price $39.99, now only $31.99
Original Thunderhead Creations THC and Tony Vapes present in a cooperation to make the Artemis RDTA vape atomizer, a modern and optically very attractive single coil building, which is especially suitable for DL-vaping.
With its diameter of 24mm the Artemis RDTA can be combined with a variety of mechanical mod and VW Box mod. It will certainly convince you all along the line with its perfect characteristics and the ideal vaping experience. The deck offers enough space to use even larger windings and special wires, handling is child's play and pleasant. With the tank volume of 4.5ml you will get through the day perfectly.
The Artemis RDTA comes with bottom feeder / BF / Squonk pin to be used as a squonker atomizer. The airflow of the Artemis RDTA can easily be adjusted very precisely, which also allows a more restrictive draw. The single coil deck RDTA Vape atomizer is for DL vaping.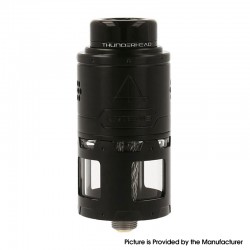 "