Original Vandy Vape Jackaroo Mini 128W Box Mod Kit - 5~128W, 4000mAh, 4.0ml, 0.15ohm
Original Price $69.99, Now Only $49.99.
Original Vandy Vape Jackaroo Mini Kit is the mini version of Jackaroo Kit with ergonomic design and small size for comfortable holding. It is powered by dual 18650 built-in rechargeable battery which is equal to 4000mAh cell. With IP67 waterproof, shockproof and dustproof, there is no need to worry about rains or dropping by accident. The upgraded Vandy Chip enables Jackaroo Mini to provide you different modes of Power / Bypass / Voltage / TC-NI / TC-SS / TC-TI, and some safety protections are also available for Jackroo Mini. It is equipped with a 4.0ml tank atomizer that is compatible with VVC series coils.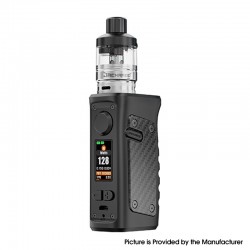 Temple RDA 28mm Clone, with Acrylic Cap + BF Pin
Original Price $14.99, Now Only $11.99.
The Temple 28mm RDA Clone is made from stainless steel in 28mm outer diameter. Comes with acrylic top cap and bottom feeder pin for squonk mods. The 28mm Temple Clone RDA is with classic dual-post deck design, with each post bringing you squared off 3mm post holes. This update allows enough room for exotic coils or large gauge wire builds. The Temple 28mm Clone RDA features a chamber reducer which not only improves the flavor given, but also positions the airflow intake higher to give a top-to-bottom airflow.