Original Digiflavor Helix Box Mod + GeekVape Cerberus Tank Kit
Original Price $39.99, Now Only $32.49
The Digiflavor Helix Kit consists of Digiflavor Helix Mod and GeekVape Cerberus Tank. This item also has other colors to choose.
Mod:
The Digiflavor Helix Mod is a stylish single 18650 mod inspired by the form of double-helix. Built with high grade ultra-lightweight ABS material which increases impact and heat resistance. Three power output modes are available to match your personal preference. Three output modes available. The mod is powered by single 18650 battery (NOT INCLUDED).USB Pass-through allows you to simultaneously use the device while charging. The advanced AS chipset fires extremely fast and stable.
Tank:
The Original GeekVape Cerberus sub ohm tank is optimized by the ultimate Super Mesh coil that maximizes heating contact surface area in order to provide maximum flavor and large vapor production. Super Mesh Coils are compatible with Aero Mesh tank too. The tank comes with 27mm diameter and 5.5ml large juice capacity.
Please note: this product will not be shipped to Korea.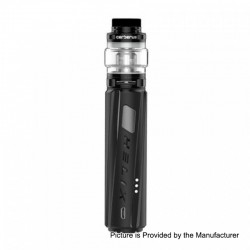 810 Replacement Drip Tip for TFV8 / TFV12 Tank / Goon / Kennedy / Reload RDA
$1.99
The replacement 810 drip tip is made from Ceramic and Stainless Steel. It is suitable for TFV8 Tank, TFV8 Big Baby Tank, TFV12 Tank, Goon RDA, Goon 25mm RDA, Goon RTA, Lost Art Goon RDA, Goon LP RDA, Kennedy 24 / 25 RDA, Battle RDA, Kryten RDA, Mad Dog RDA, Mask RDA, CSMNT Cosmonaut RDA, Unholy RDA, Apocalypse GEN 2 RDA, Reload RDA, Mini Battle RDA, Avid Lyfe Captain Cap II, Sith RDA, Vandy Vape Pulse V2 RDA, Vandy Vape Pulse X RDA, Vandy Vape Kylin V2 RTA, Hellvape Drop Dead RDA, Wotofo Profile RDA, Wotofo Serpent Elevate RTA, Digiflavor Drop Solo RDA, Geekvape Loop V1.5 RDA, THC Tauren Honeycomb RTA. This item also has other color to choose.
SteamTuners Top Fill Tank Kit Clone for Dvarw 2 22mm RTA Clone
$5.89
The SteamTuners Top Fill Tank Kit Clone is constructed from 316SS top lid / chimney and PC tank tube. It is suitable for Dvarw 2 22mm MTL / DL RTA Clone. This item also has other color to choose.
Original Union Mini Bag Portable Carrying Storage Vape Bag for Pod System Kit
$5.99
The Original Union Mini Bag is small sized carrying bag for pod system kits. Made of leather, it feels smooth and is very easy to carry. It can carry one POD system kit and four POD cartridges.